SmartConnect's great value extends to Roaming overseas too!
See below for Roaming pricing for Spark mobiles
The NZ Government is introducing GST on roaming charges from 1 April 2022 NZDT. The pricing below excludes GST.
All UBT connections have Roaming enabled by default.
If you have a Vodafone Mobile, click here to view their Roaming options

Spark new Roaming Packs are available on all mobile plans, in over 30 destinations around the world and last for 7 days.
Spark Roaming packs are now smarter too – all UBT Spark Connections have the Walk of Working feature enabled, so you don't need to worry about purchasing packs while you travel. The selected pack will automatically purchase and activate when you arrive in one of our eligible roaming destinations.
https://www.spark.co.nz/roaming
Getting ready to roam
Learn more before you go to avoid surprises on your bill.
Enable Walk off Working
International Calling Codes
Accessing Voicemail
Manage and monitor your usage
Data Smart Caps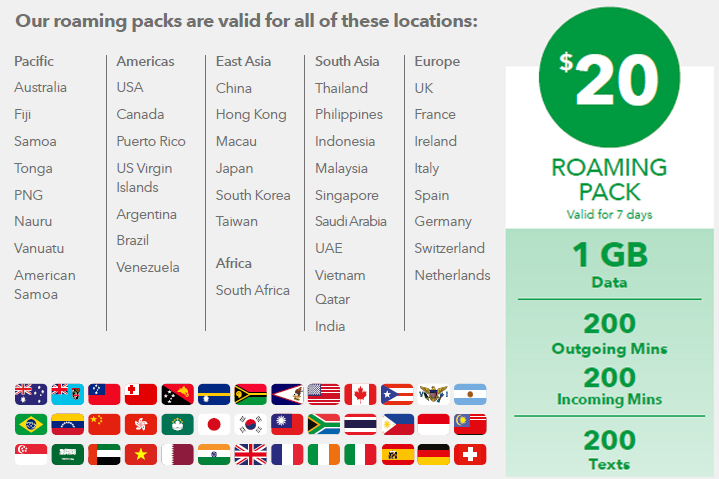 If you visit a destination that's not available for roaming packs, you'll pay casual rates.
Please note: All rates and fees are subject to the full Terms & Conditions as detailed on the Spark website