Following are examples of genuine malicious emails received.  
We'll update this as we receive screenshots of new 'dodgy' emails.
Be wary - scammers are always changing their methods and may use a totally different style at any time.
11th October 2016 - Fake bank email  [Phishing Scam]
This is a typical 'phishing' scam that tries to get you to enter your banking username and password.  Clicking the link will most likely take you to a fake ANZ site, and get you to log in - your log in details will then be captured and your bank account subject to their control!
Note - the sender address is NOT an ANZ address and if you were to hover on the 'ANZ Internet Banking' link it is very likely it will go to a random address, NOT the ANZ banking address.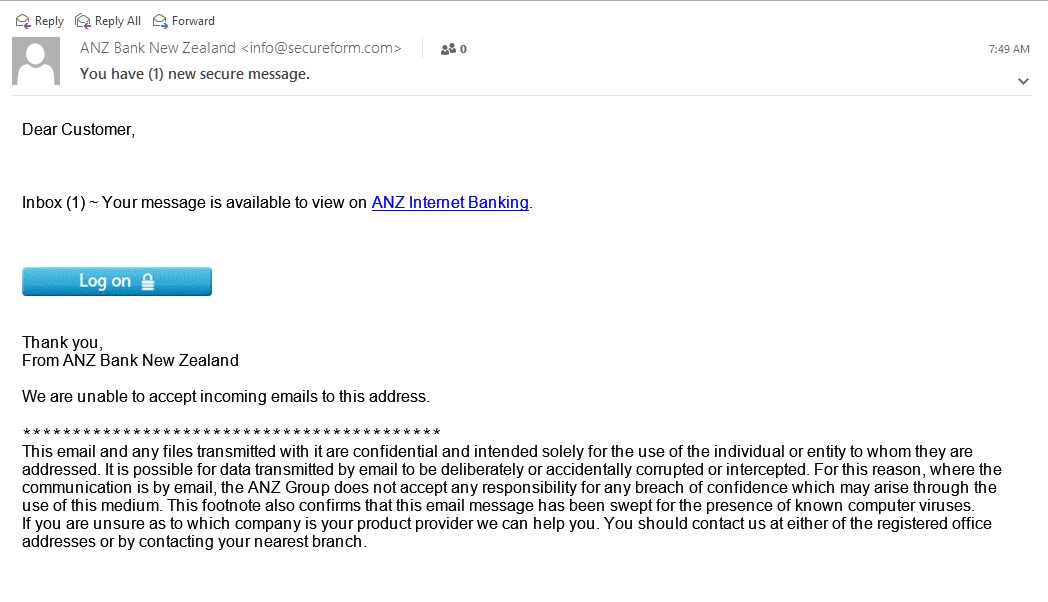 ----------------------------------------------------------------------------------
9th October 2016 - Anyone for a dangerous job application?
Notice the impersonal greeting and attached ZIP folder.
Another common feature - though also often not present  - is that the senders name does not match the email - indicating that some poor Julie Scoble's genuine email account is probably being 'spoofed' for sending this malicious email.  
If you got this email - and knew Julie Scoble, would you be fooled?